Ted Johnson • DDS • FAGD
My name is Ted Johnson and I've been practicing dentistry in the St. Croix Valley for over 25 years. Over that time period one of the more gratifying aspects of my career is interacting with families and watching kids grow. I pride myself on my ability to connect with people of all ages to not only understand what they need but what they want.
Sue • Office Coordinator
I have been working the front desk part-time for Dr. Ted for 9 years. I love our small clinic as we really have the opportunity to get to know our patients and offer them more personal service. My husband (Dave) and I have been living in Stillwater for the past 23 years. We have two sons (Matt & Jake), two daughters-in-law (Jody & Pri), and a daughter (Meghan). Most recently we were blessed with a grandson! In my free time, I love walking, gardening, quilting, traveling, and playing with my grandson (Camden).
Kelly • Office Manager
This office opened its doors on December 8, 1997. That's when I started working for Dr. Ted. Time truly does fly when you're having fun! The past 15 years have been extremely fulfilling. It's been so great getting to know our patients, and especially fun watching our young patients grow up to be successful adults. I enjoy working with such a great group of people, and feel proud of all of the advancements we've made to keep our patients healthy. Outside of work, I love spending time with my husband Al and our three boys, Jason, Sam and Jack. We enjoy spending time outdoors and playing with our dog, Lou.
Lindsay • Dental Assistant
I am Dr. Ted's dental assistant. I got my degree at Century College 15 years ago. I have been working with Dr. Ted for over 9 years. My favorite thing about my job is getting to know our patients, and watching their families grow. In my free time, I like spending time with my husband Travis and our two daughters, Tori and Hailee. We love being outdoors hiking, fishing, tennis, or just playing with our dogs Sunny and Henry.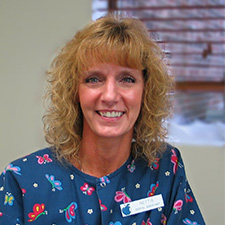 Nettie • Dental Assistant
I am one of Dr. Ted's assistants. I started working in this wonderful office in May 2016. I have been dental assisting for over 20 years now. I am meeting all our patients, and truly enjoying my new coworkers. I am happily married to my husband, Mike. We have two children, Niki and Jake. We enjoy spending time at our cabin in Siren, WI, that we share with my sister and her family.
Melissa • Dental Hygienist
I am Dr. Ted's hygienist. I graduated from the University of Minnesota with a degree in Dental Hygiene. I have been practicing hygiene for 10 years, 5 of which have been with Dr. Ted. I enjoy dental hygiene because I like to make a healthy impact on my patients' lives. I am happily married to my husband Jeremy. We have two wonderful daughters, Rachel and Julia. In my spare time, I enjoy spending time with my family, running, yoga, golfing and taking naps.